Colloque | "Networking May Sinclair / Les réseaux littéraires de May Sinclair "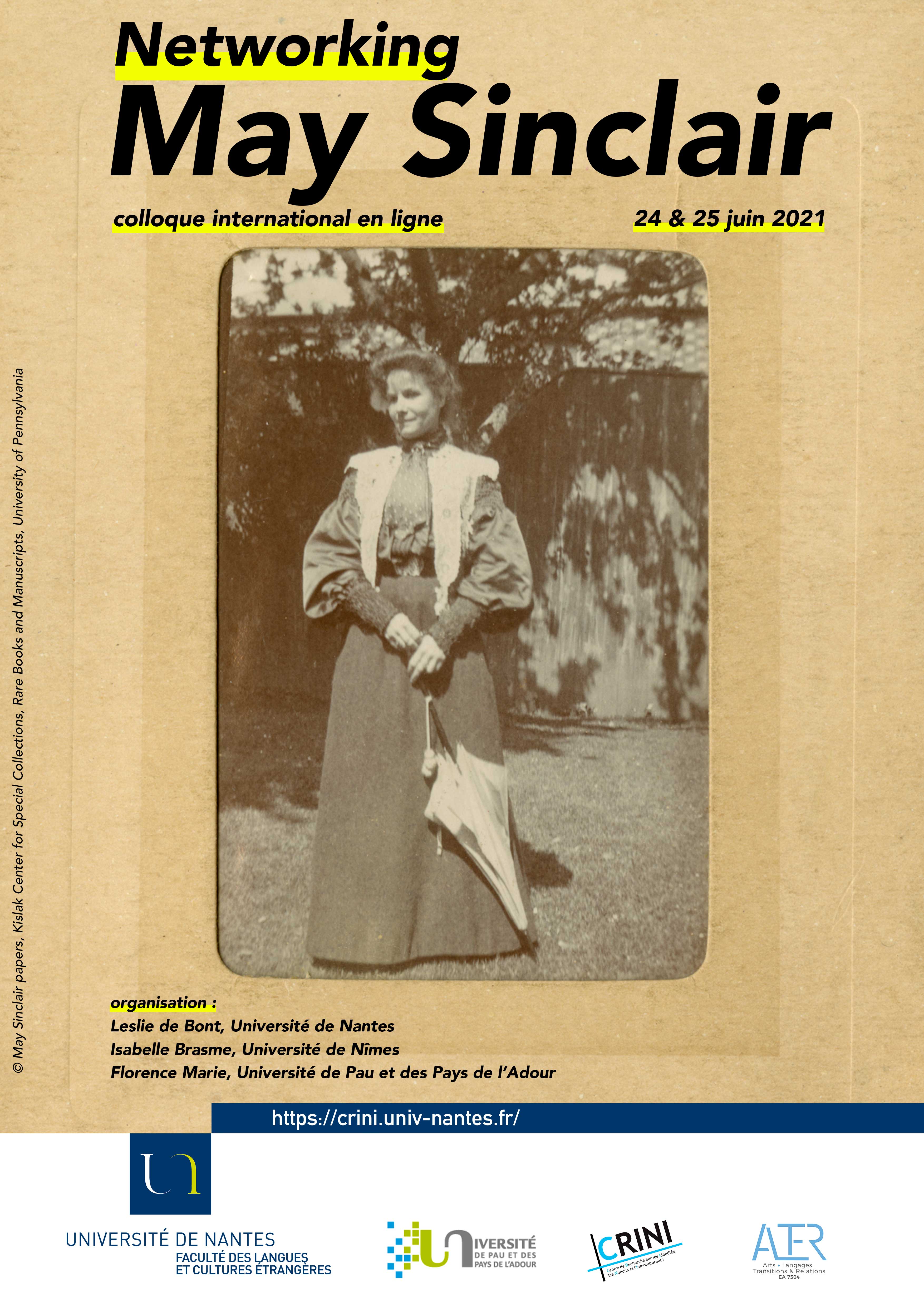 This international conference explores the diversity of connections, inspirations and influences in the work of modernist writer, May Sinclair (1863-1946). It will be held online on 24-25 June 2021.
Many reviewers and critics have shown that May Sinclair's modernism was not so much a derivation of other contemporary aesthetics but was rather a product of her idiosyncratic articulation of her many research interests and experiences. In addition, "the interdisciplinarity of Sinclair's output […] eludes straightforward categorisation and this has arguably contributed to the traditional critical neglect of her writing" (Bowler & Drewery 2016, 1). As May Sinclair is now gaining critical legitimacy, this conference seeks to explore Sinclair's texts and contexts and aims to shed light on her place in literary history and on her contribution to "the radical modernist challenge to traditional assumptions about what it means to be human" (Bowler & Drewery 2016, 14).
Program :
Thursday 24 June
10:15 : Welcome Address (« Paris time – UTC/GMT +2 hours »)

10:30-12:00: May Sinclair between the Victorians and the Modernists
Chair: Florence Marie
Georges Letissier (Université de Nantes) – "The Innocence of the Eye": May Sinclair's Reversed Case Study of the Brontës
Maria Juko (University of Hamburg) – Jessie Boucherett's Smilesian Gentlewomen in May Sinclair's Three Sisters
Isabelle Brasme (Université de Nîmes) – May Sinclair, Modernist Critic

14:00-15:00 Memory and Aftermath
Chair: Isabelle Brasme
Andrew Frayn (Edinburgh Napier University) – "Odd how the War changes us": May Sinclair, domesticity and war
Jana Funke (University of Exeter ) – "Nothing is lost": May Sinclair, Inherited Memory and Impersonality.

15:15-16:15 Mysticism
Chair: Claire Drewery
Christine Battersby (University of Warwick) – With Schopenhauer at the Belgian Front: May Sinclair's War Journal and Related Texts
James H. Thrall (Knox College) – Agency and the Modern Mysticism of May Sinclair

Friday 25 June
 
10:00- 11:00 Woman in/of letters
Chair: Rebecca Bowler
Suzana Zink (Université de Neuchâtel) – "Miss Sinclair's Sparkles": May Sinclair in Contemporary Newspapers
Sanna Schyllert (University College London) – "'Don't have anything to do with them,' she said": May Sinclair as a fictional character

11:15-12:45 Aesthetic Networks
Chair: Sanna Schyllert
Emma Liggins (Manchester Metropolitan University) – Women writing the uncanny in the 1920s: May Sinclair, Clemence Dane and Elizabeth Bowen
Shalini Sengupta (University of Sussex) – Broken Gifts: May Sinclair, Modernism, and the Motif of Exchange
Khalid Chaouch (Sultan Moulay Slimane University) – May Sinclair and her Illustrators/Co-Authors

14:00-15:00 Treading New Ground
Chair: Georges Letissier
Milena Schwab-Graham (University of Leeds) – "Sharp, queer, uncertain happiness": Walking as feminist "affective militancy" in May Sinclair's Mary Olivier
Faye Pickrem (York University) – The Anatomy of Agency in May Sinclair

15:15-16:45 KEYNOTE LECTURE
Rebecca Bowler and Claire Drewery – Transtextual Mysticisms: Editing May Sinclair
Chair: Leslie de Bont
Middlemarch 150th Anniversary Symposium* this Friday.
The event is on zoom, but we have a terrific line-up of speakers and activities to wave away the fatigue and liven up a difficult year.
Short presentations by:
Sierra Eckert (Princeton University)
     "Middlemarch 1960-2020: Scholarly Quotation as Literary Critical History"
Laura Griffith (University of Washington)
     "'No Coherent Social Faith and Order': Sainthood and Secularisation in Middlemarch and The Daisy Chain"
Alex McCauley (University of Washington)
     "Dorothea Dreams of Drains"
Matt Poland (University of Washington)
     "Multimedia Middlemarch"
A keynote by Ronjaunee Chatterjee (Concordia University) on "Middlemarch: A Grown-up Novel"
and
Eliot on Demand: Readings and reflections by…
Fionnuala Dillane (University College Dublin)
Nancy Henry (University of Tennessee Knoxville)
Summer Star (San Francisco State University)
Please click here to register, learn more, and annotate your favorite passage(s) of Middlemarch for what we hope will be a likely discussion.  
*hosted by the U of Washington Eighteenth & Nineteenth Century Research Cluster
---
The latest in a series of online events examining the Victorians at home and abroad, co-organised by the Birkbeck Centre for Nineteenth-Century Studies and the Durham Centre for Nineteenth-Century Studies.
Professor Josephine McDonagh (Chicago) will give a paper based on her forthcoming book Literature in a Time of Migration (Oxford University Press, 2021).
Professor Charlotte S. Sussman (Duke) will act as respondent.
The event will take place online, via Zoom, and attendees will receive a discount code for Professor McDonagh's new book.
Book tickets here: 
https://www.eventbrite.co.uk/e/thinking-about-literature-in-a-time-of-migration-tickets-152686372049
---
The Armstrong Browning Library & Museum proudly presents the virtual 2021 Browning Day Lecture
The presentation is aimed at a wider public in addition to a scholarly audience, and so could also be appropriate for students interested in Victorian poetry and religious culture.  Titled « Lords of the Earth? Elizabeth Barrett Browning on Christ's Body in the Age of Human Domination, » it will ask how in her poetry Elizabeth Barrett Browning struggled to come to terms with the world-altering impact of the Industrial Revolution, and how she envisioned a place for what she understood to be the body of Christ – those participating in the work of God on earth and in the world emerging. 
The Zoom credentials will be posted to baylor.edu/library/browningday one day before the event. If you would like to receive a reminder email the day before the lecture that contains the Zoom credentials, select the "Request Zoom Credentials" option on the event site at baylor.edu/library/browningday. 
——————————————————————————————————————————-
Invitation Zoom – Séances de séminaire de l'axe Histoire du politique S2


L
e lien est actif pour les séances suivantes, 17h30-19h (Zoom)
22 mars : Catherine Marshall (Cergy University) – De la déférence en politique (Royaume-Uni, 18-20e). Il s'agira de la présentation de son ouvrage Political Deference in a Democratic Age: British Politics and the Constitution from the Eighteenth Century to Brexit (Palgrave 2021). Discutant : Jeremy Jennings (King's College)
29 mars : Allan Potofsky (Université de Paris) – « Paris, c'est le monde ». Discutant : Colin Jones (Queen Mary, London/ IEA, Paris)
21 juin : Robert Poole (University of Central Lancashire) – (Re)Writing Peterloo. Discutant : Rémy Duthille (Université de Bordeaux)
Participer à la réunion Zoom
https://u-paris.zoom.us/j/85629094527?pwd=bFBRUTcvZzNmVE9NT3RyUG9tVVhJQT09

ID de réunion : 856 2909 4527
Code secret : 853656
Une seule touche sur l'appareil mobile
+33170950350,,85629094527#,,,,*853656# France
+33186995831,,85629094527#,,,,*853656# France
Pour tout renseignement complémentaire, vous pouvez contacter
Stéphanie Prévost

——————————————————————————————————————————-
'nineteenth-century Women's Ghost stories'
North West Long Nineteenth-Century Seminar
Wednesday march 24th 2021, 4 – 6.30 pm GMT
The third of our online research seminars hosted by Manchester Metropolitan University. To find out more about the seminar series or to offer a paper, please contact Dr Emma Liggins e.liggins@mmu.ac.uk and Dr Sonja Lawrenson s.lawrenson@mmu.ac.uk.
Please click on the following Zoom link to join the seminar. Feel free to write questions or responses in the chat box.
https://mmu-ac-uk.zoom.us/j/99346229473?pwd=djZBellKd2p1R0dzRFRBSm00TjNmQT09
Meeting ID: 993 4622 9473
Passcode: 360887

4.00 – 5.15
Dr Ruth Heholt (Falmouth University), 'Detecting the Ghost: Real Apparitions and Real Crimes in the Work of Catherine Crowe'
Dr Jen Baker (University of Warwick), 'Minor Embodiments: Spectral and Ghostly Children of the long nineteenth century'
5.15 – 5.30 Break
5.30 – 6.30
Dr Zsuzsa Török, (Institute for Literary Studies, Budapest), 'Mrs Vachott's Haunting Memories: Walter Scott and the Female Gothic in Nineteenth-Century Hungary'
Katerina García-Walsh (University of St Andrews), 'Margaret Oliphant's Ghostly Afflictions'

« Networks in the British and Irish Periodical Press in the Long 19th c. », on March 26, 2021, 10-5pm, online.
"Nineteenth-century social history," David Cannadine remarks in History in Our Time, "should be primarily concerned with the recovery and the nuances and subtleties and ambiguities of […] associational life – an associational life much more rich and varied than that which took place in the very different societies which Britain was in the eighteenth and the twentieth centuries".
In an age when expanding railways transformed landscapes, giving rise to fresh perceptions of time and space and allowing the products of industry, whether goods or services, to reach consumers almost instantly, human activity changed beyond recognition. As the industrial society became more complex and mobile, professional networks developed, creating wide circulatory systems throughout the four nations of the United Kingdom.
An emblematic feature and efficient agent of this new outreach was certainly the periodical press which, in Britain as well as Ireland, met with a spectacular growth over the century. According to John North, the general editor of The Waterloo Directory of English, Irish and Scottish Newspapers and Periodicals, 1800-1900, over 3,900 Irish titles, 7,300 Scottish titles and over 100,000 English titles were produced during this period and eagerly consumed by a more and more literate public. Predicated upon topicality and periodicity, newspapers and magazines developed ways of addressing their specific readerships, gathering them into what Benedict Anderson has called "imagined communities" through which they perceived but also actively constructed their environment.
While much has been written on the daily press as a privileged space in which social and political formations could construct and convey their discourses, the concept of networking as part of the structure of journalism has received less scholarly attention. "[A] ghostly dynamic of interlocking structures, referenced but otherwise invisible," to quote Laurel Brake, nineteenth-century journalistic collaborations largely determined the processes of creation, production, distribution and even reception of printed matter.
The object of this symposium will be to examine the nature, extent and workings of the networks within the British and Irish press in the long nineteenth-century. From the alliances and rivalries of exclusive publishing communities to the complex web of working relationships between artists, publishers, editors, authors, wood-engravers and printers, British and Irish newspapers were undoubtedly the result of a series of overlapping collaborations which often extended beyond national borders. A "tapestry of self-identifications" was woven through multiple connections including family dynasties (like the Vizetellys in London), corporate identities, cultures of dissent (like "Bohemia"), titles or brands (like the Punch series and by-products), but also, as Patrick Leary has documented, through "the pervasive medium of oral culture in which those networks formed and operated: the culture of conversation in clubs, taverns, coffee-houses, offices, theatres, galleries, dinner parties and, most particularly, the workplace".
Our keynote will be Professor David Finkelstein (University of Plymouth), a renowned specialist of nineteenth-century cultural history, print culture and media history whose edited Edinburgh History of the British and Irish Press, volume 2: Expansion and Evolution, 1800-1900 has recently been published by EUP (2020).
---
Organizers :


Dans le cadre de l'exposition « British Stories » qui aura lieu au musée des Beaux-Arts de Bordeaux de mai à septembre 2020 (Commissaires d'exposition : Guillaume Faroult, Sophie Barthélémy, Sandra Buratti-Hasan), les unités de recherche en études anglophones de l'Université de Toulouse (CAS) et de l'Université Bordeaux Montaigne (Climas) organisent une journée d'étude le 2  juillet 2020 sur le thème de « L'art du portrait dans la peinture anglaise (1750-1900) ». Cette journée d'étude sera précédée de la visite commentée de l'exposition le 1er juillet et elle sera suivie d'un atelier de recherche le 3 juillet permettant à des doctorants et jeunes docteurs de présenter leurs travaux sur l'art anglais (Centre François-Georges Pariset ; Université de Bordeaux Montaigne).
Conférences plénières
Guillaume Faroult, Conservateur en chef en charge des peintures françaises du XVIIIe siècle et des peintures britanniques et américaines du Musée du Louvre, et co-commissaire des deux expositions de Bordeaux « British Stories ».
Sandra Buratti-Hasan, Responsable des collections XIX-XXe siècles du Musée des Beaux-Arts de Bordeaux et co-commissaire des deux expositions de Bordeaux « British Stories ».
Marcia Pointon, professeur émérite de l'Université de Manchester et auteur, entre autres, de Hanging the Head: Portraiture and Social Formation in Eighteenth-Century England, Yale University Press, 1993.
Si, en termes génériques, la contribution décisive de la Grande-Bretagne à la peinture européenne du XVIIIème siècle est vraisemblablement l'invention de la conversation piece, c'est plus généralement le portrait qui constitue le genre pictural le plus caractéristique de ce pays à l'époque. Le genre du face-painting, comme on le dénommait alors, depuis le portrait d'apparat jusqu'au portrait de famille ou de groupe, en passant par la fancy picture, est associé aux noms de peintres célèbres : Reynolds, Gainsborough et Hogarth, sans compter quantité d'artistes moins connus comme Romney, Ramsay ou Lawrence. Un certain nombre d'études, en particulier l'ouvrage majeur de Marcia Pointon (Hanging the Head: Portraiture and Social Formation in Eighteenth-Century England, 1993), ont exploré les riches interactions entre production et consommation culturelle du portrait, d'une part, et les dynamiques sociales et les questions d'identité nationale propres à la Grande-Bretagne du XVIIIème siècle, d'autre part. L'immense popularité dont jouissait le portrait auprès du public britannique remettait en question la suprématie de la peinture d'histoire, d'où les tentatives du théoricien Jonathan Richardson de donner au genre légitimation et lettres de noblesse (An Essay on the Theory of Painting, 1715).
Au siècle suivant, le succès du portrait est couronné en 1856 par l'ouverture de la National Portrait Gallery, premier musée au monde consacré à ce genre. Le mécénat royal joue alors un rôle non négligeable, car les nombreux portraitistes de la reine contribuent à consolider l'institution monarchique, les valeurs bourgeoises incarnées par Victoria et une certaine version de l'anglicité, massivement diffusée dans l'Empire par le biais de gravures. Toutefois, avec la démocratisation du portrait, et sous l'influence des peintres Pré-Raphaélites et du Mouvement Esthétique, le genre se transforme. Se distinguant du portrait photographique, le portrait peint vise moins la ressemblance au modèle qu'il ne privilégie le travail sur la couleur, le rythme, les formes et la composition, au point qu'à la fin du siècle, le trait, le contour et la ligne, éléments fondateurs de l'art de « portraire », ainsi que le rappelle Edouard Pommier dans Théories du portrait (1998), deviennent secondaires.
Ce colloque sera l'occasion de s'interroger sur les théories, les enjeux et les formes du portrait anglais. On pourra aborder le portrait en série, l'autoportrait, les portraits physiognomoniques ou allégoriques ou encore les portraits post-mortem. On tentera de dégager les apories de la représentation d'un visage, entre commémoration et propagande, célébration et caricature. On questionnera l'efficace du portrait en termes de discours et d'affects. Les études portant sur la critique d'art ou sur la circulation des portraits (entre commanditaires, artistes et collectionneurs) seront les bienvenues, de même que les communications examinant la spécificité du portrait anglais et  sa contribution à l'émergence d'une identité nationale.
Langues du colloque : français et anglais.
___________________________________________________________________________________________________
Lieu : Université de Caen / MRSH, salle sh 027
Début : 11/10/2019 – 09:00
Fin : 11/10/2019 – 18:00
Responsable(s) scientifique(s) : Armelle Parey et Charlotte Wadoux
Conférencière invitée: Patricia Duncker (romancière et universitaire)
Programme : pgEribia.JE.neo-vict.11.10.19
Dans un essai où elle réfléchit à l'écriture des romans néo-victoriens, Patricia Duncker dresse une liste d'auteurs qu'elle définit comme « ripe for imitation, adaptation or reinvention » tels Wilkie Collins, les sœurs Brontë, Henry James, Oscar Wilde ou encore Charles Dickens (Duncker 257). Cette liste vient non seulement mettre l'accent sur le lien intrinsèque qui relie l'art de l'adaptation, le pastiche et/ou la parodie au projet néo-victorien mais elle pointe également la présence des auteurs Victoriens au sein même de la fiction néo-victorienne. C'est d'ailleurs le cas de son dernier roman Sophie and the Sybil (2015) dans lequel George Eliot fait partie des personnages principaux.
Selon Kate Mitchell : "[n]eo-Victorian fiction prompts authors, readers and critics to confront the problem of historical recollection […] what is involved in this re-creation of history, what it means to fashion the past for the contemplation of the present" (3). Partant de ce constat, cette conférence s'attachera à explorer les différentes manières de re-présenter et de se re-mémorer les écrivains au sein de la fiction néo-victorienne.
Quels sont les auteurs que l'on se remémore ? Pour quelles raisons ? De qui et de quoi se souvient-on ? Qu'a-t-on omis et/ou modifié à leur sujet ? L'intérêt porte-t-il sur la carrière de l'auteur et/ou sur sa vie privée ? Comment ces auteurs deviennent-ils des êtres de papier ? Telles sont certaines des questions auxquelles nous tenterons de répondre en gardant en mémoire le phénomène de « re-vision » (Rich) qui sous-tend l'agenda politique qui anime souvent le projet néo-nictorien.
Les années 1990 furent marquées par l'essor des récits historiques (en particulier, des biographies), essor qui semble avoir profité au genre néo-nictorien, en particulier en ce qui concerne le sous-genre de la biofiction (Steveker 68). Marie-Luise Kohlke résume ainsi l'attrait pour ce qu'elle appelle les « celebrity biofictions »: "revelations of the salacious and traumatic aspects of the lives of participants in the long nineteenth century" (Kohlke 4). On voit bien ici que c'est la notion de canonicité qui est remise en question, favorisant des récits iconoclastes. Ainsi, de célèbres auteurs Victoriens tels Charles Dickens ou encore Lord Tennyson firent l'objet de moqueries lorsqu'ils furent représentés en tant que personnages dans les récits néo-Victoriens (Gutleben). Cependant, des fictions plus récentes mettant en scène des auteurs peuvent être comprises comme un "fresh commitment to what we might call the reality of history" (Boxall 41).
La reprise de la figure de l'écrivain au sein de la fiction peut être perçue comme un acte d'appropriation, mais c'est aussi une forme de refus ou rejet de clôture. Comme le dit Georges Letissier des personnages transfictionnels : "the neo-Victorian character denies the death verdict of the closed book, or any compulsory order of textual residence, through a process of migration that is an extension of fictitious life." (Letissier n.p.). Dans ce processus de migration et d'expansion, la fiction néo-victorienne fait revenir les auteurs du passé sur différents modes, soit alignant la figure de l'auteur et son œuvre (on pense ici à Tobias Oates dans Jack Maggs (1997)) en contradiction avec le fameux essai de Barthes, « La mort de l'auteur », ou réduisant la séparation, déjà mince, entre biographie et fiction (Peter Ackroyd, The Last Testament of Oscar Wilde (1983)), ou encore, en mettant en scène la rencontre avec l'auteur du passé (Kathleen A. Flynn, The Jane Austen Project (2017)).
La fiction néo-victorienne se définit par sa méta-réflexion et son auto-réflexivité (Heilman et Llewelyn 4), d'où l'intérêt de se pencher sur la représentation de l'acte d'écriture, qu'il s'agisse de la représentation des auteurs Victoriens ou de la mise en scène des auteurs néo-victoriens eux-mêmes initiée par John Fowles dans The French Lieutenant's Woman (1969).  Pourront également être prises en compte les personnages d'auteurs tels Lamotte et Ash dans Possession, ou encore Sugar dans The Crimson Petal and the White. 
A Single Drop of Ink for a Mirror: A Symposium on Nineteenth-Century Literature and the Visual Arts, hosted by Princeton University on October 4-5, 2019.
The conference will afford an opportunity for scholars in different fields to come together to address new directions in interdisciplinary studies of literature and the visual arts. The conference is open to the public and will center around the papers and presentations of twenty-one principal interlocutors. Our list of speakers includes scholars at various stages of their careers, from leaders in the field to advanced graduate students. The conference will also be accompanied by a small exhibition at the Princeton Art Museum, curated by Rosalind Parry and Ariel Kline. Caroline Arscott, of the Courtauld Institute of Art (London), will deliver the keynote address, and senior scholars Tim Barringer, Ruth Yeazell, Elizabeth Helsinger, Kate Flint, Rachel Teukolsky, Joseph Viscomi, and David Pike will also present.  Papers topics include: the Idyllic School, African exploration and missionary literature, the reception of Vermeer in England, slum imaginaries, Ruskin, John Everett Millais's portraits of fathers, Blake, and the Pre-Raphaelites.
 For more information, please visit princetonartlit2019.princeton.edu
---
The Victorians Institute will hold its 2019 conference on
TRANSATLANTIC CONNECTIONS:
AFRICA, THE CARIBBEAN, THE AMERICAS, & VICTORIAN STUDIES
on October 31 – November 2, 2019 in Charleston, SC. The conference site affords an opportunity to think about transatlantic connections in the 19th century when Charleston was a prominent intersection on a web that connected Britain, Africa, the Caribbean, and the Americas.